Jian Zhan teaware inspires poetic praise among its ardent lovers and devotees. Over the centuries, these unique teacups were called "the sacred vessel of tea", the "king of teaware" and the "vessel born for tea."
OWN A MASTERPIECE IN TEAWARE INDUSTRY
Jian ware is not only teaware, but it is also an art form and an important part of history. They are glazed at very high heat using a glaze with a high iron content, which creates a blackened and distinctively beautiful pattern that is unique only to Jianzhan Tenmoku pottery.
BENEFITS OF DRINKING TEA FROM JIAN WARE
The high iron content of Jian ware improves the alkalinity of the tea water. We all know that drinking water that is high in alkalinity is beneficial for our health. However, it is also good for the tea itself. Your freshly brewed tea will become smoother and more aromatic. 
HEAT PRESERVATION & BETTER TASTE
When drinking tea from Jianzhan teacup, the temperature of the brew will stay pleasantly warm for a long time, yet without burning you. While you sip the tea, watch the colors of the glaze gently play and intermingle with the tea. The dark yet vibrant colors of the iron-rich glaze will unite, forming beautiful blues, gold, and other magical colors. 
GREAT GIFT ITEM & GORGEOUS PRESENTATION BOX
These beautifully-crafted designs will serve as the ideal gift for weddings, birthday parties, Christmas get-togethers, office parties, housewarming, reunions, or any family hangouts. All our tea ware comes with an elegant presentation box.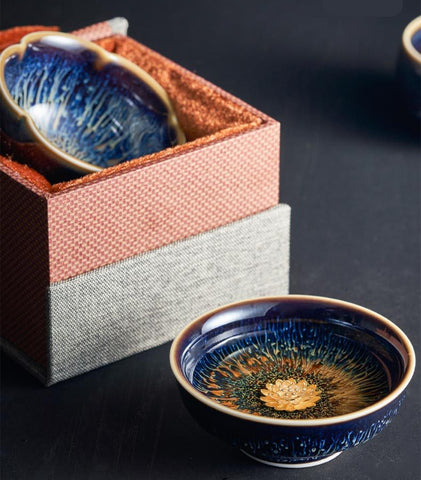 Product Details
Diameter: 7.3 CM

Depth: 5 CM

Volume: 70 ml

Heat Resistant: 150°C

Food-Safe: Yes

Dishwasher: Yes