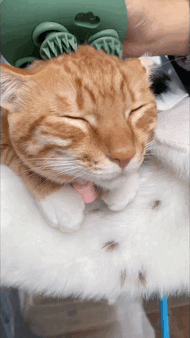 Our Pet Massager may reduce stress and anxiety during a thunderstorm, fireworks show, or any situation that makes your pet nervous and restless,  and strengthen the bond between you and your pet.  You don't even have to leave the house and because it's portable you can use it whenever and wherever. 

Features:
3D Deep Tissue Massage: Helps dissolve knots and stimulate blood circulation, which can help improve your pet's mobility and joint health. The Pet Massager can help to prevent injuries, improve performance in agility dogs, delay onset of age-related arthritis, improve mobility for older pets and help recover faster from injuries or post surgery rehabs.
IPX7 grade waterproof: The device is fully waterproof which allows you to give your pet a massage while giving baths and can be immersed into water up to three feet! The soft silicone head prevents hair from getting tangled which adds more comfort when massaging.
Food Grade Silicone Contact Head: They are flexible, elastic, the force is more uniform and there is no irritation when in contact with skin.
Easy to clean: Independent, removable and washable heads make it more easy to clean and hygienic.
Cordless and Rechargeable: Charge the device easily wherever you are and on the go.

what you get:
Sporting a patented custom design, this fully rechargeable massager goes the distance when it comes to charge time and massage ability.
You can easily customize your massage at any given time, from a light scalp scratch to a deep kneading effect without excessive pressure.
The massager has 2 modes: dry and wet dual purpose, making it safe to use in water.
It has the ability to switch between clockwise and counterclockwise settings at both low and high speeds.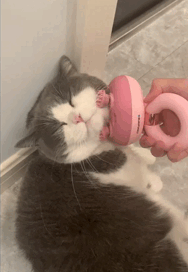 Frequently Asked Questions:

1. Is this only suitable for my pet?
- Absolutely not!. The great thing about this device is that its suitable for both people and animals.
2. How do you switch it off?
- Hold down the black area on top of the massager for approximately 2 seconds and it'll turn off automatically.
3. How long does it last on a single charge?
- It can last from anywhere between 4-8 days depending of course on how often it used
Include:
1 x Pet Massager
1 x Magnetic suction charging line
1 x Manual