As Seen On Tiktok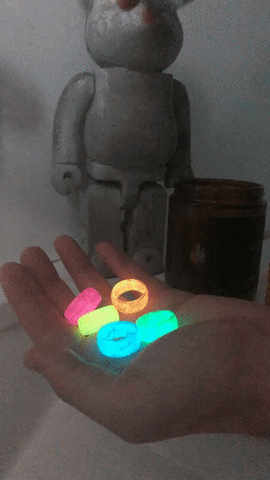 Luminous Meteorite Rings are hand crafted from a blend of resin and phosphorus gemstone powder. 
To charge the ring, simply expose it to any light source. This includes sunlight, your phones light or even a lamp if you want a crazy affect.
Simple yet elegant, this luminous statement ring is easy to pair with just about any outfit. With this bright ring, you can sure to startle people with your grace and spontaneity. This is such a fun ring to have that charges up with sunlight or UV light and glows in the dark. Only 30 seconds in the sun gives your ring a full charge or you can charge it with a flashlight when the night or dim light appears and you will see a glow of beauty.
This luminous ring is an excellent gift for your soulmate to show your love and support to them - a perfect gift for all occasions.
 Glowing In The Dark.Ring with special design upgrade your personal charm, catching others eyes
Suitable for wearing on any occasion
DURABLE & WATERPROOF
Wear it every day and everywhere. Wear it at your next pool party!