Wind Chime is visually and acoustically exceptional, made to look unlike any chime on the market. Centrally suspended, heavy-walled aluminum tubes and a high-density striker give this chime its outstanding tone and resonance. The tubes are powder-coated in the same color as the top and sail, giving a complete, finished look to the chime, as well as the resilience to withstand all-season use.  Tubes are suspended on durable synthetic nylon cords. Available in your choice of finish, this chime is sure to please. 
Features:
36 Inch large Wind Chimes, Wind chimes deep tone -The sound is rich,deep tone and relaxing thanks to expert tuning . And the adjustable bell length makes the sound of different scale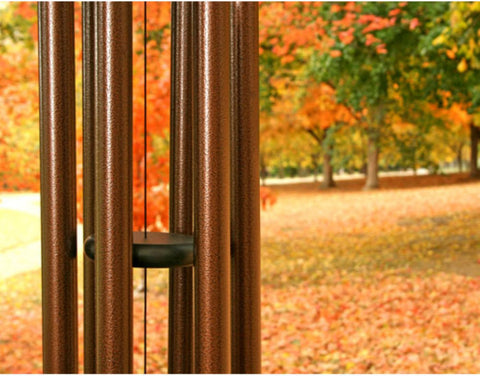 Wind chimes outdoor - wind chimes is made entirely of aluminum,not only the six tubes,also the hook,the top part and the wind chimes pendulum,all durable anodized bronze finish.

Thick tubing wall creates a longer lasting deep tone. Each tube is precision tuned to pentatonic scale.

Garden Wind Chimes - Power coated and anodized aluminum for long lasting beauty even in the harshest climate.
Specifications:
Overall length: 36 in.

6 chip-resistant anodized aluminum tubes

Hand tuned to the scale of C

Powder-coat finish in several color options

1.25 in. tube diameter

Durable, heavy duty nylon cording

High-density striker for deep tone and resonance