【PRESSING DESIGN】 Flexible non-stick silicone material and independent cube compartment design makes it easier to release ice cubes. The silicone soft-bottom ice tray is buckled upside down on the position of the icebox, and the lid is covered to press. 
【FOOD-GRADE SAFE MATERIALS】The pressing plate and ice tray are made of food-grade PP material, which is safe and durable. Each ice cube tray includes 24 cavities, 2 pack in total 48. You will get 2 ice cube trays, 1 storage container with a lid, and 1 free ice scoop.
【MULTIPURPOSE】An ice mold maker is a remarkable appliance for all your ice cube making and storage. It can be used to make decorative ice cubes using edible flowers and fruits, create refreshing smoothies, and frozen fruit, juice, whisky, cocktail, coffee, and more.
【LARGE-CAPACITY ICEBOX】 The large-capacity ice storage box is sturdy and durable. It can be used as a small ice bucket with ice cubes in it, and it can also be used as a daily food storage container with a lid.
【SEALED LID】Perfectly fits the icebox. Prevent the smell in the freezer from entering the icebox, so that the ice cubes can be kept fresh and hygienic.
【De-Icing Process】
Take the frozen ice tray out of the refrigerator
The soft glue is buckled upside down on the card position of the icebox and covered with the cover
Press down to remove the ice in 1s.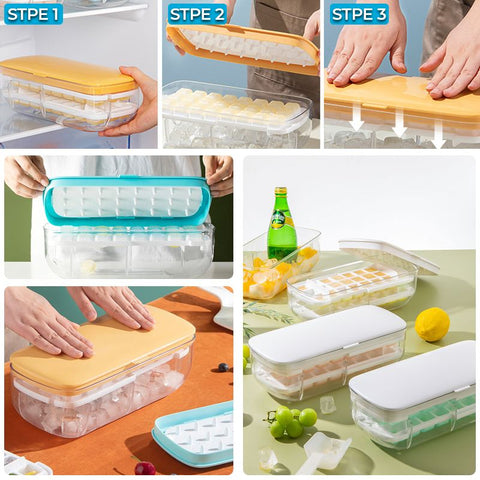 Friendly Reminder:
Our products are plastic products, please do not put them in a high-temperature environment for cleaning. If washing in a dishwasher, it is important to note that the temperature does not exceed 140°F (60°C).
When cleaning, please do not use sharp objects such as steel wire balls to avoid scratching the product.
Thick objects such as milk and yogurt are more viscous, it is best to wait 5 minutes before pressing.
Avoid direct sunlight and place it in a cool place to prevent the product from aging.